Customers
Visitors include school, college and university groups, corporate and non-profit groups.
Invited guest lecturers, nature interpreters and guides include artists, writers, and scientific personalities from the Cowichan area and nearby universities and colleges.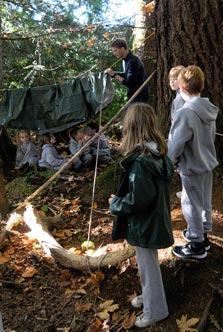 "Each year our intermediate students look forward to their overnight visit to the Lake Cowichan Outdoor Education Centre. The pristine forested and outstanding waterfront location provides opportunities to connect with the outdoors, and the superb meals and comfortable sleeping facilities compliment the experience. According to our schools' objectives, Program Organizers very successfully customize a diverse range of options including waterfront activities, teambuilding challenges, crafts and environmental awareness pursuits. Our students work together, reflect in nature, discover new passions, challenge themselves, have fun and finish the year off with wonderful memories!"
Deb Secco
St. Margaret's School, Victoria
"Participants from around the world have found our retreats hosted at CLEC have nurtured them in a deep way. From the sense of being part of an ancient land, to the beauty of the lake, or a cozy fire in the lodge – CLEC provides a great setting for our retreats. We are very grateful to have found CLEC. The combination of beautiful natural environment available for outdoor sessions, and attention to care for the needs of our group have kept us coming back year after year."
Terri and Andree
Organizers on behalf of the Inner Quest Foundation, Victoria.
"The Cowichan Lake Outdoor Education and Conference Centre is the perfect location for the summer leadership programs that we run. The location is ideal, providing the privacy we need, but being close to town. The setting is stunningly beautiful. Set right on the lake, in the middle of lush forest, the centre has been our summer facility rental for over ten years. The management are friendly, accommodating and flexible and we are always able to find solutions to our needs. There is a great variety of sleeping arrangements from dorms to private rooms to log cabins. We love coming back every summer!"
Chelsea Lake
Youth Leadership Camp, The Yes